The 2013 Annual Drive


The Washington Rowing Program is a direct reflection of our Stewards...join us today!
The 2013 Annual Drive

Fall 2013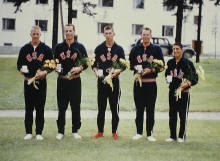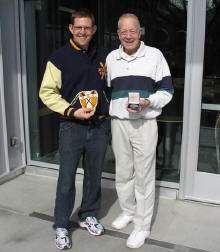 It is with sadness that we announce the passing of longtime Steward and Hall of Fame member Carl Lovsted '52. Carl began his career at Washington in the fall of 1948 and was an IRA champion in 1949 (F8) and 1950 (V8), before crowning his accomplishments with an Olympic bronze with teammates Fil Leanderson, Al Ulbrickson Jr., Al Rossi, and Dick Wahlstrom at the 1952 Helsinki Olympics. An active Rowing Steward for decades, he was inducted into the Washington Hall of Fame with his 1952 teammates in 1998.
Carl's impact on the Washington Rowing program is immeasurable. His generosity, from the scholarship endowments he created to "chief coffee maker" at the Steward's Enclosure, was boundless. He will, however, be remembered by most for his strength of character, and as the embodiment of what it meant to be a Steward of the program. "I got so much out of the experience that helped me in my life that I've always thought that I was simply acting on my responsibility. I still do," said Carl in a 2008 interview.
Carl Lovsted was a friend of Washington Rowing, and in so doing became a friend and mentor to many, many people associated with it, across multiple generations. As is the case with exceptional people, his loss will not only be felt personally by the many he touched in his life, but by the entirety of our program. To his family, teammates, and friends, we offer our condolences.
A celebration of life will be held at Conibear Shellhouse on Saturday, December 14th, from 5:00 pm - 7:30 pm. In the meantime, read about Carl and his rowing achievements here (with many photos from his collection) - Washington Rowing History - 1950's. In addition, the 2008 SWEEP article nominating him as one of the most influential people in the history of Washington Rowing, is here - First Family - A Husky Profile.

At Washington, our team includes exceptional and dedicated athletes and coaches, a vibrant alumni group, active parents, and friends from across the globe. Our core values include an equal and inclusive environment for all of our athletes - men and women together - and emphasize tradition, community, education, and teamwork. These values do not end at the shellhouse doors, but are a commitment every VBC member has made - since the days of Hiram Conibear - to strive for excellence both on and off the water. Welcome to our website!
Who We Are
Into The Cut
News Articles - GoHuskies
Conibear Shellhouse

Our state-of -the-art rowing facility opened in 2005. Take a virtual tour here!

The History

Over 100 years and going strong... read about our tradition here, and browse the over 1,000 photos sorted by decade.

Media Archive

Huskycrew.org has been covering the Huskies since 2002, with photos and vids from Henley, New Zealand, Russia... and the Montlake Cut!

Friends, Alums and Parents
Since the Washington Rowing Stewards were first organized under Hiram Conibear, the program has been a source of pride for our alums and the Seattle community at large.