Alums, Friends, Parents - Join Us!
The 2015 National Championship Celebration
Conibear Shellhouse - Thursday, June 11th, 6:00 pm

Come join the team and celebrate the unprecedented 5th V8 IRA Championship - and 9th Team Championship in a row Thursday, June 11th, at 6 pm at the Shellhouse. The celebration will include pictures, videos and speakers, including members of the National Champion varsity eight and head coach Michael Callahan. The event is free - complimentary appetizers and hosted beverages will be served. Paid parking will be available in the E1 lot on the UW athletic facilities campus. See you there!
Five in a Row
UW Sweeps the IRA
MV4 - Gold; MF8 - Gold; M3V8 - Gold; M2V8 - Gold; MV8 - Gold

9th Straight Ten Eyck Team Champions
Washington MV8 5 Time National Champs
First Time in the History of the IRA, Dating Back to 1895, That a Team Has Won More Than 4 in a Row

4 Times: 1909-1912 Cornell; 1955-1958 Cornell; 1999-2002 Cal
5 Times: 2011-2015 Washington
May 29-31
Women: NCAA Rowing National Championships
Lake Natoma, CA

V8: 6th, W2V8: Bronze, WV4 - 4th
Team Finishes 4th

Sunday, 5/31 Grand Finals (Washington will race in all):
8:12 a.m. pdt - WV4; 8:36 a.m. pdt - W2V8; 9:00 a.m. pdt - WV8

Full Schedule: NCAA Women's Rowing Full Schedule (revised due to expected weather conditions Sunday)

2015 NCAA Women's Rowing Championship Webcast

More Information: NCAA Rowing
Results: UW HuskyCrew Twitter
Men: IRA Rowing National Championships
Mercer Lake, NJ

Sunday, 5/31 Grand Finals (Washington will race in all):
5:40 a.m. pdt - MV8; 6:00 a.m. pdt - M2V8; 6:10 a.m. pdt - M3V8; 6:20 a.m. pdt - MF8; 7:20 a.m. pdt - MV4
Full Schedule: IRA Men's Rowing Sunday Schedule (revised due to expected weather conditions Sunday)

2015 IRA Men's National Rowing Championships Webcast
(the webcast url has been changing without notice; this is the latest as of 8:00pm pdt 5/30)

Results: UW HuskyCrew Twitter
Washington IRA Tent - Alums, Friends, Family - All Welcome!

Friday:
UW / Class of 2015 / USA flag raising aprox. 8:00AM - ALL WELCOME! GO DAWGS!
Breakfast only: coffee, muffins, bagels, breakfast sandwiches (meat/veggie), fruit, snacks
Saturday:
Breakfast only: same as Fri.
Breakfast: Same as Fri/Sat.
Lunch: wraps, sandwiches, fruit, cookies & snacks, "Taste of Seattle" salmon with sides
****PLEASE feel free to bring a case of bottled water and/or a bag of ice each day. We can never have too much.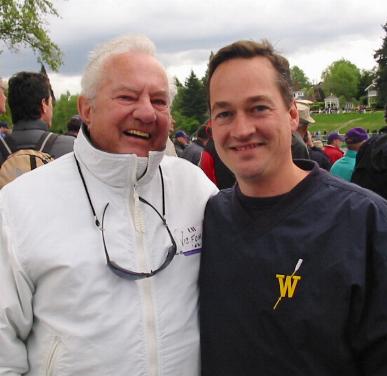 Vic Fomo '42, left, with UW Rowing History author Eric Cohen '82, at the Windermere Cup in 2003.
Vic Fomo '42, standout Washington coxswain and UW Hall of Famer, passed away at the age of 94 on April 22nd, 2015.
A three-time National Champion at Washington (Frosh, JV, and Varsity), Vic was a member of the '40 and '41 teams that dominated collegiate rowing and are still considered two of the strongest teams to ever row at Washington. Due to the cancellation of the 1942 IRA (caused by WWII), Vic was not able to complete the career sweep at Poughkeepsie. But the '42 varsity went undefeated on the coast, completing his tenure at the UW without ever losing a race.
When I interviewed Vic for the history pages, his consistent message was how blessed he was to have been part of Washington Rowing. His teammates, and the program itself, were a big part of his life. That quality is made that much more significant when one takes into account the fact that these men – the men of the 1940 team that dominated US rowing – were very likely going to be the US representatives at the 1940 Olympics; an Olympics that were first slated for Tokyo, then moved to Helsinki, but both ultimately cancelled days before the IRA's due to the events across the globe leading to WWII. Always upbeat, here is Vic talking about growing up in Anacortes, the influence of '36 stroke Don Hume on his career, and what Husky Crew meant to him: Vic Fomo '42: What Husky Crew Means to Me.
Even though his health was declining in recent years, Vic made the effort to be at many of the Washington races, including the IRAs. Inducted into the Washington Hall of Fame in 1991, Vic remains one of the best coxswains to ever wear the "W". He will be missed by all who knew him. The entire Washington Rowing program extends our condolences to his family and friends.

Posted by Eric Cohen 4/29/15
Ever race for a National Championship in the middle of the night? Vic Fomo did. Listen to his description of the 1940 JV night race on the Hudson – where due to the fact most crews swamped in the afternoon race, it was postponed until after dark when the wind would die down. An amazing story: Vic Fomo: The 1940 JV IRA Race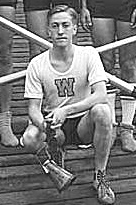 When writing the men's history of Washington Rowing in 2002 and 2003, I had the honor of sitting down with many of the men who had contributed or participated in some of the more memorable rowing experiences at Washington. I met with Bob Moch '36 on a number of occasions to talk about his time as both a coxswain and a coach, from 1933 (the year Washington won the first 2,000 meter National Championship), to his tenure as UW frosh and lightweight coach at the end of the 30's. Our conversations covered multiple topics, including his rowing career, stories of stowing away in baggage cars, Al Ulbrickson and Tom Bolles, and driving coast to coast in a brand new Packard.
I recently re-visited some of the cassette tapes I made of our interviews. Keep in mind these were intended as reference material for writing (the sound quality is not great), but it seems appropriate to get this first part published to hear one of the men who experienced the 1936 Olympic victory relate the story, a story that has been so well documented in Daniel James Brown's The Boys in the Boat.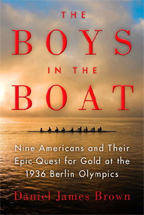 Not all of our interviews were taped, but when we sat down in October of 2002, the topic was 1936 and the recorder was on. This conversation begins with the fall of 1935, how the crew came together, "LGB", the IRA's (coming back from many lengths down), the U.S. Trials, the Olympic final, his post-race travels and the beginning of his coaching career. You will want to be comfortable; this first part is 30+ minutes long: Washington Rowing: Bob Moch and the 1936 Season. Recorded with Eric Cohen, October 2002. mp3 format, 33:45
Want to learn more about The Boys in the Boat, the '36 crew, and how rowing in the 30's compares to today? GoHuskies has an interesting summary of the stats and figures showing how the sport has changed (and also stayed the same) - The Boys in the Boat: Then and Now. In addition, Columns Magazine recently published a short piece by Colby White, son of John White '38, recalling his father, here - Finding My Father. And of course, don't miss our history section - The 1930's, or coxswain Bob Moch '36 describing the Olympic race for us in 2002: Bob Moch, the '36 Olympics and the Influence of Husky Crew on His Life. Recorded November 2002, mp3 format, 1:29
At Washington, our team includes exceptional and dedicated athletes and coaches, a vibrant alumni group, active parents, and friends from across the globe. Our core values include an equal and inclusive environment for all of our athletes - men and women together - and emphasize tradition, community, education, and teamwork. These values do not end at the shellhouse doors, but are a commitment every VBC member has made - since the days of Hiram Conibear - to strive for excellence both on and off the water. Welcome to our website!
Who We Are
Into The Cut
News Articles - GoHuskies
Conibear Shellhouse

Our state-of -the-art rowing facility opened in 2005. Take a virtual tour here!

The History

Over 100 years and going strong... read about our tradition here, and browse the over 1,000 photos sorted by decade.

Media Archive

Huskycrew.org has been covering the Huskies since 2002, with photos and vids from Henley, New Zealand, Russia... and the Montlake Cut!

Friends, Alums and Parents
Since the Washington Rowing Stewards were first organized under Hiram Conibear, the program has been a source of pride for our alums and the Seattle community at large.